Every Fall, we take pride in sharing a small taste of Fest with our seniors who cannot make it to La Crosse's Annual Oktoberfest Celebration: hand delivering brats to our greatest generation. Our mothers and fathers. Our grandparents. Our friends and loved ones. Everyone deserves even a small reminder of why we celebrate this time of year, all throughout the Coulee Region.
Remember to visit with your loved ones, or just spend a few minutes on the phone to wish them a Happy Oktoberfest, and to show that you're thinking about them as we give thanks and celebrate Oktoberfest!
Brats for Seniors is made possible thanks to generous donations from Bubba's Meats, Paul's Heating and Air Conditioning, Catholic Cemeteries of La Crosse, and Olive Juice Quilts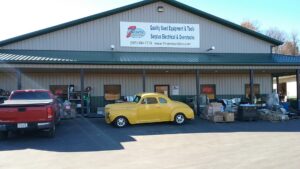 More often than not, if you need a tool, it's nowhere to be found around your house. First you go to the most logical place. The tool box in the garage. Then your search takes you to your basement. Nope, not down there either. It could be under the sink, or maybe it somehow ended up in the junk drawer. Or did you lend it to your neighbor?