As the summer temperatures rise, finding an escape from the heat becomes the number one priority. Luckily, La Crosse offers a range of activities to keep you cool while allowing you to savor the remainder of the summer season. From sun-soaked beaches to refreshingly cool ice-skating rinks, we've curated the perfect list of activities to help you beat the heat this summer in La Crosse.
1. Outdoor Public Pools
Are you seeking a fun solo, group, or family summer activity? Here's your sign to plan a pool day! For an entry fee of $4.00, you can spend the day tanning by the poolside, splashing around with friends, swimming laps, or slipping down a range of slides. The Veterans Memorial Pool, Northside Community Pool, and Erickson Pool are all supported by the City of La Crosse and open to the surrounding community.
2. Public Beaches
La Crosse's riverside beaches offer a range of activities. Whether you're looking for a relaxing day floating in the Mississippi or if you're looking for an intense game of beach volleyball, these beaches have it all.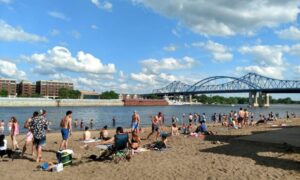 3. Movie Theatres
If the heat is so unbearable that you need to retreat into a cool dark room, a movie day might be for you. Catch up on the latest films while staying cool in one of La Crosse's two main movie theatres. The Rivoli is a historic movie theatre and pizzeria in downtown La Crosse offering a truly magical movie experience. Marcus La Crosse Cinema is the La Crosse branch of the Marcus chain theatres which consistently offers a comfortable and innovative movie experience.
4. Ice Cream Parlors
Give into your summertime cravings and discover the sweet summer sensations offered by La Crosse's ice cream scene. The Pearl Ice Cream Parlor in downtown La Crosse is known for its exceptional homemade ice cream and riverside location. Ranison Ice Cream & Candy has a wide array of chocolate, candy, and ice cream that's sure to satisfy your cravings. The Sweet Shop, located in Caledonia, is an iconic sweets shop popular with locals and visitors. Stay cool and eat ice cream this summer!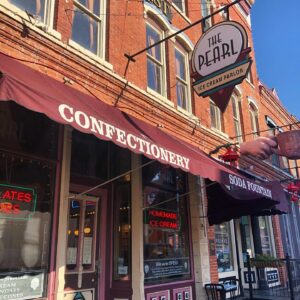 5. Ice Skating/Roller Skating Rinks
What better way to escape the summer heat than hanging out in an ice rink? Taking a break from the humid heat and experiencing the cool air of an ice rink is a fun way to get refreshed. If a trip to the ice rink sounds too extreme, try out a roller-skating rink. Luckily, La Crosse offers both! Green Island Ice Arena and High Roller-Skating Center are available throughout the year and great places to cool down during the summer!
6. Bowling
Bowling is a great way to escape the summer heat. Enjoy some drinks, eat some food, and knock down some pins, all while staying cool! The La Crosse area features many bowling locations with most offering food, drinks, and additional games. Grab a group and discover these La Crosse bowling locations!